EMDR + Trauma Counseling in Atlanta
You're ready to overcome the pain and fear of your memories. To find peace in your past and to trust in your ability to find freedom in your life.
But the trauma in your life has made you feel like a different person. You're ready to get to the root of your trauma symptoms, stop being afraid of your intrusive thoughts and focus on the important things in your life. You're ready for a solution, and you heard that an Atlanta EMDR therapist could help.
Before you recognized yourself as a trauma survivor, you felt like a successful person. You had a thriving career and a lot to show for yourself. You were on your way to building lasting relationships, you felt safe to explore Atlanta, and you believed you could handle any situation that came your way. You felt entirely able to take care of yourself. Yet, when you started to face your trauma, your world came crashing down. Everything you trusted about yourself disappeared. So here you are, years after you've experienced horror and pain and you're starting to wonder if you're ever going to feel like yourself again. Every day is a battle. You can't stop reliving what happened to you. You can't shake the awful feelings that come from what you experienced in the past, and your nerves are a wreck every time you have to show up for work, a party, or a date. You don't negate what happened to you. You now know your trauma has an impact on your life and that it takes time to overcome what you went through. But you don't want to feel like a victim the rest of your life. Truly, you want the opposite. To feel in control of your life again and to trust yourself. You know bad things happen no matter how hard you try to prevent them and that you are not invincible; but, that doesn't mean you can't have a normal life. What you didn't expect was how long-lasting the effects of your situation have been. That just when you start to think you're getting better, something insignificant will trigger your trauma and you feel like you're right back at the beginning again. And you certainly didn't expect to lose your identity and become a victim.  You've been thinking that maybe EMDR therapy in Atlanta could be the missing link.
So here you are: Irritable, uncomfortable, frozen…you're considering EMDR therapy in Atlanta
The realization hit you the other day… You were sitting at a red light on your drive into work. You were dazing off a bit and weren't paying as much attention as you normally do. Just then the radio switched over. It was playing that song. Immediately you froze. Your hands started sweating, you began to breathe heavy, and the pictures flooded your mind. It wasn't until the car behind you had honked three times that you realized the light had turned green. Shaken to your core, you pulled over. Immediately you broke into tears. At that moment you wished so badly you could erase your memories. That you could fully enjoy your life without feeling like your bravery and your safety had been stolen from you. You thought to yourself: "I'm never going to be able to feel whole again." "My zest for life is gone and I don't know if I can ever get it back." "I thought I'd be able to control this fear and anxiety on my own." "Everything I loved about myself is falling apart because of what happened to me." But when you were finally thinking rationally again you admitted to yourself: "I'm not going to be able to do this forever, its time I talked to a professional. I think I'm ready for EMDR therapy."
You honestly thought your trauma was insignificant, but when you truly think about it…
You've become someone you don't even recognize.
Regardless of how strong you are and how brave you try to be, you are not equipped to move past what happened and heal. You absolutely thought you were stronger than your pain and suffering, and that you had the power to make things better. But you're positive now that you will continue to live an effected life if you do not get trauma counseling.
It's extremely painful to admit that you aren't as capable as you know you should be. Life changes so much when significant trauma happens and you need a special skill set and strategies to cope with your new reality.
But, something we want you to know is, everyone who struggles with instances of trauma has to redefine what life looks like. You are not the only person to feel like a victim and that your circumstances are robbing you of your life. We see this every day in our work with trauma clients. The key is continuing to heal from the past, focusing on your strengths, and developing a plan to address the areas you want to improve.
You're ready to cope with the trauma of your past and to move forward in a way that feels like you're reclaiming your life. You're ready to book an Atlanta EMDR therapy appointment.
When You Engage in  trauma Counseling/EMDR therapy with Us
You will learn about feeling more in control of your life and your circumstances
You will learn about the resources you need to reach out for help and to establish a strong support system.
You will learn about connecting more fully with friends and family without experiencing symptoms of trauma such as depression and/or anxiety
You will learn about how to experience relief from the shame and guilt you carry around as the result of your trauma
You will learn about how to find relief knowing that no matter what you've been through, you will be able heal from the past and thrive in your life going forward
Our Atlanta EMDR Therapy and Trauma counseling Process
Our Atlanta EMDR therapy and trauma counseling process helps you face the memories of what happened to you and develop the skills to keep them from impacting you in a negative way. Together, we will strive to reduce your irritability, anxiety, and isolation and improve your ability to connect and relate to loved ones. We will discover ways for you to regain ownership of your daily tasks and complete them without feeling weighed down by your past.
We'll meet together weekly for 50-minute therapy sessions. There is no set duration for trauma counseling and the number of sessions is based solely on the client's needs. In our work together we will use evidenced-based approaches to treating trauma which may include EMDR (Eye Movement Desensitization and Reprocessing), CBT, and other approaches.
Here's what to expect:
WEEK ONE: Intake
During this initial session, we define the counseling relationship and discuss the details of informed consent. We gather information about you, your family members, and your biological, psychological, and social history and how this is impacting your current situation. We also discuss the goals you have going forward.

WEEKS TWO And BEYOND: Atlanta EMDR therapy and Trauma Counseling
Together, in each subsequent session, we will use EMDR therapy or other forms of trauma counseling approaches to treat the struggles you are experiencing since accepting your trauma. With the EMDR therapy model, we use eye movements to engage both sides of your brain (the logical and emotional sides) to help you process distressing memories and beliefs.
Together we will process the current state of your experience with trauma and how it is affecting your family relationships, work experiences, and social life, and set goals for where you want them to be.
TERMINATION: 1-2 Final Sessions
In our final sessions, we will review your goals to ensure you are satisfied with your counseling experience and that our work together has met your expectations. We will also outline a plan going forward so that you are able to retain what we have worked on together and implement all you have learned outside of session.
** If you find yourself feeling like you want to approach your trauma slowly, we have training in multiple trauma-related interventions and we can work with what you feel most comfortable with. We will work together to set up a plan for your counseling experience. For example, I can provide talk therapy to address your trauma if that feels comfortable for you. PLEASE NOTE, EMDR THERAPY IS A SPECIALTY AND THE TEAM MEMBERS WHO ARE TRAINED IN IT ARE MIKELA HALLMARK, AND KEVIN CONDON.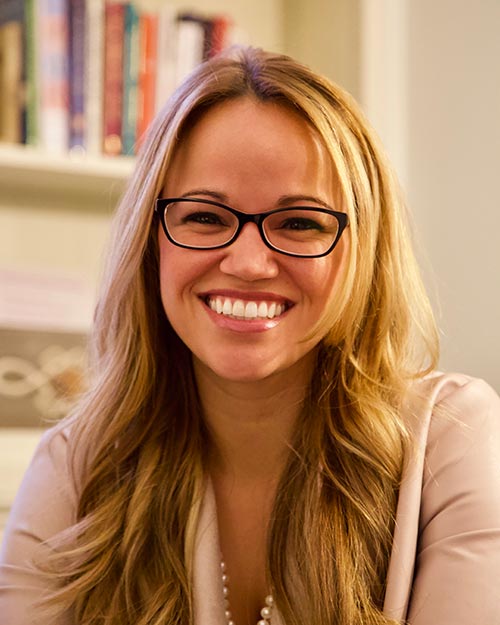 More About Atlanta EMDR therapy
Hi, I'm Mikela, a Licensed Professional Counselor. I have trained in EMDR therapy and other types of trauma related therapist. I am invested in helping individuals embrace life after trauma. It is my passion to help clients relax and feel calmer in their surroundings. I also make it my mission to help clients live their lives fully without worrying about triggering their trauma. Because I've gotten so busy, I have tried to bring on other amazing counselors who can be great supports for clients. Pamela Madsen, MS, APC is our other counselor who is trained in emdr. She shares some of my same values and passions about supporting clients well. You can read more about her here.
Whether your traumatic experience was recent or took place years ago, you can rid yourself of harmful feelings or beliefs surrounding the event and move through it in a healthy way. I am dedicated to helping those with traumatic backgrounds increase their positive reactions with others and form functional and bonded relationships with their family members.
You can read more about our training and specialties here.
Who Benefits Most from EMDR Counseling and Trauma Counseling
EMDR therapy and trauma counseling are best for those who are ready to face the events head-on. EMDR Counseling and Trauma Counseling help individuals work through the fears, feelings, and root issues that are preventing them from accomplishing daily tasks, caring for themselves, and connecting with loved ones. You will benefit from Atlanta EMDR therapy or trauma counseling sessions if:
You are interested in learning the ways trauma has affected your body and brain
You are willing to adapt the skills you learn in the therapy room to your life outside of session
You experience intense anxiety and pain when you remember your story
You are ready to find a way to regulate your emotions so that you can move forward in a more steady and stable way
You no longer wish to feel like a victim of your circumstances
There are certain situations where you might not be ready for Trauma Counseling with me. These situations include, but are not limited to:
An untreated mental health concern
A reluctance to dive deep into traumatic events
You are addicted to or are abusing illegal substances
What Does Trauma Counseling and EMDR therapy in Atlanta Cost?
We do not currently work with insurance companies.
In the meantime, we can work together to explore payment options such as Flexible Spending Accounts, Health Service Accounts, and Out of Network insurance benefits.
EMDR – Atlanta trauma counseling is fee-for-service at the rate of $200 per 50 minute session to see Mikela Hallmark and Pamela Madsen and $175 to see all other team members who are trained in EMDR. We accept all major methods of payment.
It is possible to live a life free from the effects of trauma. You will be able to experience new situations without constantly looking over your shoulder or doubting yourself. You will feel a sense of pride knowing that you have taken back your power and are creating an existence on your own terms. It's true your experiences have shaken your core and made you doubt yourself, but that does not mean you cannot start to move on with your life and reclaim your identity, trauma and all. You can find the strength to face your memories without fear of them holding you back. You'll be able to be more present with friends and loved ones without thinking you are damaged. Ultimately, you'll find a way to move beyond your past, experience more positive emotions, and interact with others on a deeper level.
To schedule Atalnta EMDR therapy or Trauma Counseling with Mikela Hallmark call
678-744-7347.